Three years ago APV was founded in part in response to the underhanded and thuggish passage of the so called TRAP law by the Virginia General Assembly and signed by then Governor McDonnell. These Targeted Regulations against Abortion Providers were designed to put existing women's health clinics out of business by forcing them to adhere to medically useless, economically prohibitive regulations. APV stood beside women's health organizations, medical professionals and grass roots activists to organize protests including the historic February 2012 protest at the Capitol, pictured on our FB page. We have consistently lobbied, educated, testified and marched against TRAP in the years since and today it began to pay off as Governor McAuliffe started the process that should ultimately overturn TRAP in Virginia. APV members can take pride in knowing that you were a part of making this happen. This fight is far from over and we need to keep the pressure on, but clearly this is a victory for Virginia women and for the state as a whole. Thank You all!
http://www.timesdispatch.com/news/state-regional/virginia-politics/mcauliffe-orders-review-of-abortion-clinic-rules/article_aff4e058-d9cc-11e3-9164-0017a43b2370.html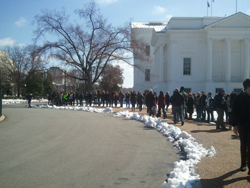 UPDATE:
Those who were with us last year will remember that Ralph was our guest at the APV Oyster Roast. here's his statement on the new BoH appointments.
Lieutenant Governor Northam's Statement on new members of the Board of Health
I am very pleased that Governor McAuliffe has chosen to appoint such a strong group of individuals to the Board of Health. These new appointees are experienced professionals with a wide range of backgrounds and expertise. While the Board of Health deals with a diversity of issues, unfortunately its decisions in the last few years have been notable for their adverse affects on women's reproductive rights and safe access to healthcare. I am supportive of the Governor's request for a review of the TRAP regulations and I am hopeful that the Board will conduct an independent review genuinely focused on health and safety, and absent of outside political influences.