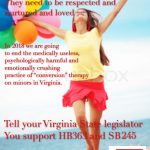 As we have in the past, APV has introduced legislation in both houses of the 2018 Virginia General Assembly to end the practice of so called Conversion, or Sexual Orientation Change Therapy on minors in the commonwealth by clinicians lisensed in Virginia. Conversion Therapy seeks to "cure" LGBTQ people. It is medically useless, psychologically dangerous and emotionally crushing. It needs to stop, NOW!
Our Senate bill, SB245, sponsored by Senator Scott Surovell, (Arlington), is before the crucial Senate Education and Health committee tomorrow morning. If you live in Virginia, please contact your state Senator and ask that they support SB245! If you have a Senator who is on this committee list, please contact them and ask that they vote in favor of this important legislation.
Tell them no one with a medical/clinical license in Virginia should be using that authority to damage children with quack medicine. You can not cure what is not an illness!