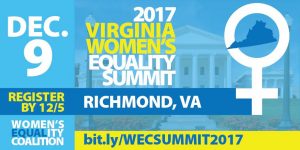 ***Get your tickets today: https://progressva.actionkit.com/donate/WEC-summit-2017/ ****
On December 9th, the Women's Equality Coalition will hold our semi-annual Women's Equality Summit right outside of Richmond.
We have so much to celebrate as progressives in Virginia, but our win on November 7th was just the beginning. We have a real opportunity to get things done in 2018. The Women's Equality Summit is a great place to start!
The Summit will include:
-Discussion panels on today's issues impacting Women
-Several afternoon trainings from leading Statewide progressives
-Actionable ways to holdour Representatives accountable and fight for a more progressive Commonwealth.
-A slate of amazing progressive Virginia women who you'll be hearing a lot from over the next few years!
If you are excited by the big Progressive win in Virginia, as we are, join us at the Women's Equality Summit and find out what is next for the movement!