April 7th, 2016
Big night at the candidate forum held last night at Virginia Union University. We are very proud that two of the people running for mayor are also APV members. Lillie A. Estes and Farid Alan Schintzius both did a great job of outlining intelligent, Progressive options for the City of Richmond going forward. Either's election would mark a sharp divergence from the current machine politics that have dominated this area for almost a decade.
Coverage from The Richmond Times Dispatch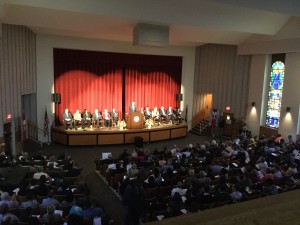 UPDATE: As of the filing deadline of June 14th three APV members are on the ballot for the November elections.
Ms. Lillie Estes has withdrawn from the race.
Mr. Farid Alan Schintzius is running for Mayor
Mr. Charles Diradour is running for City Council
Ms. Kirsten Gray is running for School Board
We wish them all the best.