Today APV President, Rhonda Hening lead a delegation of APV members and staff to the offices of both Virginia Senators Kaine and Warner to deliver a letter of protest and concern regarding the latest Trump scandal: the forced separation, caging and drugging of minors including infants seeking asylum with their families in the United States. We had spirited and frank discussions with staff and made clear our anger and indignation at this embarrassment of a man and the administration he runs.
Along with the APV Kaine Letter june 21 18 we made several specific asks of the Senators including paying a visit to now infamous detention center near Staunton where children were allegedly beaten and abused, and to Abby and her family who are now under sanctuary here in Richmond. Below are some of the points we stressed today.
This policy was an attempt at blackmail designed to get Trump his wall, We ask that you do NOT cooperate.
Oppose any strawman legislation that proports to end this practice, such legislation is unnecessary and only serves to confuse the public as to administration responsibility. As he proved on Wednesday this president always had the power to end this catastrophe with a pen stroke.
Attend, support or participate in hearings that bring the appropriate department heads before you under oath and invoke Congressional oversite to investigate the origins of this "policy". Hold human rights violators who have participated in implementing this administration's plans accountable before the law.
Join the call for the resignation of DHS Secretary, Kirstjen Nielsen whose statements during this crisis indicate either incompetence, dishonesty or both.
Sponsor a motion of censure for the president and members of the Trump cabinet who have knowingly lied about this new program in public while committing a clear human rights violation by implementing this new policy.
Join our call for the break-up of ICE. The Department of Immigration and Customs Enforcement. ICE is the product of the ill-advised conglomeration of various federal security agencies after 9-11. It has become a rogue, strongarm force for this administration and has lost the confidence of many Americans. It should be broken down to its constituent parts and demilitarized.
Declare a moratorium on filling any more judgeships under this criminal and illegitimate administration until after the November elections, at the least.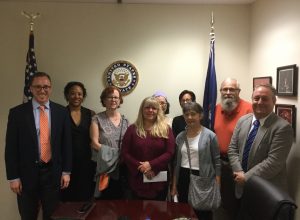 Thank You! to the APV members and staff who took time out of their day to come out and make your selves heard.