MAY
CANDIDATE FORUM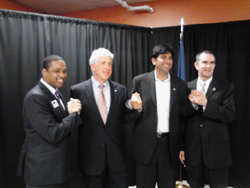 APV was a prime mover in organizing the May 8th candidate forum here in Richmond and we are proud to announce it was a great success. Our thanks go out to Sen. Herring and Mr. Fairfax who are running for Attorney General and Mr. Chopra and Sen. Northam who are running for Lt. Governor for participating. All the candidates made strong presentations and Virginia would be well served to have any of them in office. Special thanks to Dr. Kim Allen who moderated tonight's event and to the Gay Community Center of Richmond for hosting. Also a special thanks to APV Deputy Policy Director Roland Winston who was our point man on this event.
(Photo: Mr. Fairfax, Sen. Herring, Mr. Chopra and Sen. Northam)
---
Candidate Forum

The Gay Community Center of Richmond
1407 Sherwood Ave., Richmond, Virginia 23220
Wednesday, May 8th 2013
7:00pm- 9:30pm
As in past years APV, in cooperation with numerous other organizations including GETEqual – Va, People of Faith for Equality in Va, Progress Va, Richmond NOW, Sierra Club-Virginia Chapter, UniteWomen.org and Virginians for Responsible Gun Laws is hosting a forum for candidates running for state-wide office in Virginia. We have invited all those who have registered to run in the election including independents, Republicans who will participate in this month's nominating convention and Democrats who will participate in the June 11th primary.
At present we are expecting four Democratic candidates for Attorney General and Lieutenant Governor; unfortunately the Republican candidates either declined our invitation or did not choose to respond.
We have commitments from Aneesh P Chopra and Ralph Northam who are running for Lieutenant Governor in the June Democratic primary and Justin Fairfax and Mark Herring who are running for Attorney General. We preferred to have candidates speaking in opposition and since Mr. Cuccinelli chose not to attend; Mr. McAuliffe will not be speaking.
In the next four years many important issues will come before our leaders in Richmond: Women's reproductive choice, uranium mining, transportation, education, LGBTQ equality and nondiscrimination, voting rights, gun laws and more. This is a prime opportunity for you to see and speak with these candidates. The 2013 election will be critical to Virginia's future and we urge you to get to know those who wish to lead our Commonwealth.
Please join us!
Roland Winston
Deputy Policy Director for Equality and Diversity
Here is a link to our facebook page for this event: https://www.facebook.com/events/596695773676059/
---
APRIL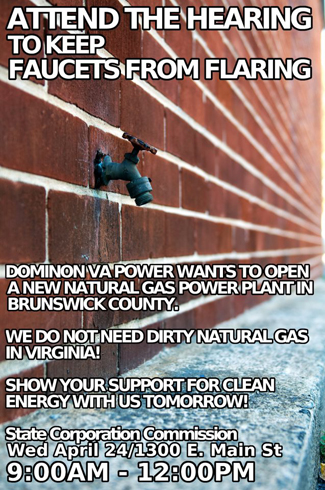 April 24, APV Deputy Policy Director Stefan Reed testified before the Virginia State Corporation Commission regarding Dominion Power's proposed 1.1 billion dollar natural gas plant to be built in Brunswick County between now and 2016. Stefan made a strong case against such a large investment in a technology that is already yesterday's news. "We need to invest in technologies that provide clean and renewable energy for the 21st century not the 20th". Stefan talked about the need to force Dominion (Virginia's largest political donor) to live up to its promises of safe, clean, renewable energy instead of the lip service we have gotten so far.
Also at the hearing we heard moving testimony from local Southside business and government leaders in favor of the plant. APV is very sympathetic to the ongoing plight of these communities. Unemployment in this region sits stubbornly at around twice the state average. The citizens of Brunswick County and their neighbors deserve a sustainable, job creating industry in their region. Sadly, instead of a cutting edge alternative energy infrastructure that will bring and keep quality jobs in the Southside such as Wind, Solar, Geothermal, Tidal or Hydroelectric, they are being asked to wed their region's future to the outdated, inefficient and dirty technologies that Dominion persists in advancing. As Stefan said "we need to invest in real energy solutions, not more of the same"
---
Equality Virginia Gala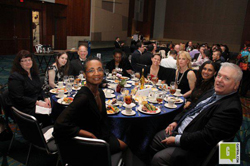 The APV table at this year's Equality Virginia gala in Richmond April 5th. Pictured: Kim Allen, Roland Winston, Victoria Bragunier, Merry Rutrick, David Bernard, Del. McQuinn, Robyn Deane, Kim Gray, and Meg Rapelye. (photo credit: Gay RVA)
---
FEBRUARY
Press Conference – Wedding Reception
Thursday, Feb. 14, 2013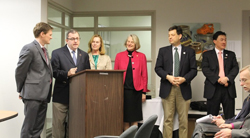 On Valentine's Day 2013 gay and lesbian Virginians once again participated in "Witness for Marriage", protests in five cities across the Commonwealth by going to the local courthouse and applying for marriage licenses. At a time when the United States as a whole is moving towards full equality for LGBT Americans, Virginia still lags behind. (Photo credit: GayRVA)

At the General Assembly before the event the Alliance for Progressive Values held a press conference with Delegate Scott Surovell (Alexandria) who introduced legislation this year that had it passed would have opened the doors of the courthouse to gay and lesbian couples by ending the so called Marshall/Newman amendment. We were joined by representatives from Equality Virginia, People of Faith for Equality, Get Equal VA and the First Unitarian Church of Richmond as well as gay and lesbian couples from across the state.

Victoria Bragunier, APV Public Policy Director, spoke at the press conference:

"Today is Valentine's Day. A day marked by promises of love and fidelity—a day many celebrate by getting married. Yet, in the Commonwealth of VA, gay and lesbian couples are still denied this right because of the Marshall-Newman Amendment.

The Marshall-Newman Amendment defines marriage as solely between one man and one woman and bans recognition of same sex marriage and civil unions, keeping Virginia from recognizing such arrangements formed in other states."
---
JANUARY
Uranium Mining Bill Killed in Committee
APV has worked long and hard since our founding in 2011 to keep the ban on uranium mining in Virginia. Yesterday (Jan. 31) the most recent threat to the ban was stricken from the docket in the important Senate Agriculture Committee. We expect more efforts by the deep pocketed resource extraction industry to open the Commonwealth up to this risky practice and we will continue to work to keep our environment safe and clean and to promote clean and renewable energy models for the future.
From the article:
Scott Price, president of the Alliance for Progressive Values, said the bill's defeat is a win for the proverbial little guy.
"This is a big victory for the people in Virginia against big money," he said. "It shows what happens when people are organized and people fight back."
http://www.newsadvance.com/go_dan_river/news/pittsylvania_county/article_f785a17c-6c00-11e2-ad8b-0019bb30f31a.html
---
APV Clean Energy and Environment Task Force member Erica Gray takes on the Attorney General and Dominion Power in this column in RVA open Source.
"Many of those who believe in climate change also believe that an investment in renewable energy is the only solution to sustainability. They reject the careless proliferation of nuclear power and have a different vision. Until Dominion finds an eternal containment solution for the millions of tons of radioactive waste sitting out in their yards, any new reactor plans are unthinkable. And any aging reactor that remains online could be the next Fukushima."


http://rvaopensource.com/newsfeed/?p=326
---
FOR IMMEDIATE RELEASE
Contact: Victoria Bragunier
804-517-5206
vbragunier@apvonline.org
Alliance for Progressive Values Monitoring 2013 General Assembly Voting and Election Bills
The 2013 Virginia General Assembly has only been in session since January 9th, but much has happened. One of the most disturbing trends this session has been the number of bills introduced with the sole purpose of disenfranchising voters. APV believes that voting and elections are a fundamental right and imperative to our democratic system of government.
Below is a list of voting and election bills that APV is monitoring. Please pay special attention to the bills we oppose as these bills will have a chilling effect on voters. Each bill listed includes a mini synopsis, along with APV's position.
SB 719 Polling place procedures; voter identification requirements:
Removes several items from the list of acceptable identification documents that a voter must present when voting at the polls on election day: a copy of a current utility bill, bank statement, government check, or paycheck that shows the name and address of the voter. These documents continue to be valid identification for certain first-time voters at federal elections who are required to show identification under the Help America Vote Act of 2002. APV opposes this bill.
SB 723 Electoral College; State's electoral votes shall be allocated by congressional district:
Provides that the Commonwealth's electoral votes shall be allocated by congressional district. Receipt by a slate of presidential electors of the highest number of votes in a congressional district constitutes the election of the congressional district elector of that slate. Receipt by a slate of electors of the highest number of votes in a majority of congressional districts constitutes the election of the two at-large electors of that slate. In the event no slate receives the highest number of votes in a majority of districts, receipt by a slate of the highest number of votes statewide shall constitute election of the two at-large electors of that slate. APV opposes this bill.
SB 1072 Elections; electronic pollbooks, photographs:
Provides that electronic pollbooks shall contain a photograph of and identifying information for each voter either received from the Department of Motor Vehicles or taken by an officer of election when the voter presents himself to vote that shall be accessed by the officer of election when the voter presents himself to vote. If the voter does not appear to be the same person depicted in the photograph in the pollbook, any qualified voter may and the officer of election shall challenge the vote of such voter. A voter with religious objections to being photographed may refuse to have his photograph taken. APV opposes this bill.
SB 739 Mechanical and electronic voting devices; number required:
Provides that there shall be at least one voting device for each 500 registered voters in precinct. The current requirement is for one device for each 750 registered voters. APV supports this bill.

SB 968 Absentee ballots; officers of election shall not reject ballot if middle name is not on envelope:
Provides that officers of election shall not reject an absentee ballot on the basis that the voter failed to include a middle name or initial on the ballot envelope if such failure is not material to determining whether the individual is entitled to vote absentee. APV supports this bill.

SB 1008 Voter registration; registration activities by third parties:
Requires individuals and groups conducting voter registration drives to register with the State Board of Elections or local offices, provide information as required by the State Board, receive training, and execute a sworn affidavit that they will abide by all Virginia voter registration laws and rules. The bill also prohibits pre-populating registration applications with information unless directed by the applicant to do so. Finally, the bill reduces the time limit for mailing or delivering such completed applications from 15 to 10 days. APV opposes this bill.
SB 1145 Absentee ballots; confirmation of receipt.
Requires the Secretary of the State Board of Elections, in coordination with local election officials, to implement a free-access system by which a voter may determine whether his application for an absentee ballot has been received and accepted and whether his absentee ballot has been received and the current status of the absentee ballot. APV supports this bill.
SJ 266 Constitutional amendment (first resolution); restoration of civil rights:
Authorizes the General Assembly to provide by law for the restoration of civil rights for persons convicted of nonviolent felonies who have completed service of their sentences subject to the conditions, requirements, and definitions set forth in that law. The present Constitution provides for restoration of rights by the Governor. The amendment retains the right of the Governor to restore civil rights and adds the alternative for restoration of rights pursuant to law. APV supports this bill.
HB 259 House of Delegates Districts; technical adjustments in boundaries:
Makes technical changes in House of Delegates Districts 2, 7, 8, 9, 10, 12, 13, 14, 15, 16, 17, 18, 19, 22, 23, 25, 26, 29, 30, 31, 32, 33, 42, 43, 44, 45, 47, 49, 50, 51, 52, 55, 59, 60, 64, 67, 75, 87, and 99 in order to eliminate split voting precincts and otherwise facilitate administration of legislative elections by local officials. All districts remain within one percent deviation of the ideal population. APV opposes this bill.
HB 1599 Vote Centers; pilot program:
Authorizes the State Board of Elections to provide for a pilot program in which localities may establish vote centers for use in primary elections instead of having to operate a polling place for every precinct in the locality. A vote center will consist of a location where voters from two or more designated precincts may vote. The State Board shall publish a report on the program by August 15 of any year in which a vote center is used. The provisions of the bill expire on December 31, 2016. APV opposes this bill.
HB 1725 Absentee voting; handling of absentee ballot applications by third parties:
Requires any person who offers to mail or deliver 25 or more absentee ballot applications to first register with the State Board of Elections, receive training, and include a specified notice and information to applicants. The bill includes requirements for the timely return of applications. Failure to comply with these requirements is a Class 4 misdemeanor; destruction of or failure to mail an application is a Class 1 misdemeanor. Also, any person who knowingly aids or abets, or attempts to aid or abet, a violation of the Uniform Military and Overseas Voters Act is guilty of a Class 4 felony. APV opposes this bill.
HB 1747 Voter registration; registration activities by third parties:
Requires individuals and groups conducting voter registration drives to register with the State Board of Elections or local offices, provide information as required by the State Board, receive training, and execute a sworn affidavit that they will abide by all Virginia voter registration laws and rules. The bill also prohibits pre-populating registration applications with information unless directed by the applicant to do so. Finally, the bill reduces the time limit for mailing or delivering such completed applications from 15 to 10 days. APV opposes this bill.
HB 2107 Absentee ballot procedures and count; requires prompt counting immediately after close of polls:
Requires the prompt counting of absentee ballots immediately after the close of the polls and advance steps by the general registrar to prepare for the prompt counting of absentee ballots. APV supports this bill.

HB 2143 Voting; absentee ballot application and provisional ballot envelope information:
Specifies that only the last four digits of an individual's social security number are to appear on the green envelope into which a provisional ballot is placed and that only the last four digits shall be required for absentee ballot applications. Clarifying language also is added to emphasize that provisional ballot envelopes are to be placed in the ballot container promptly. APV supports this bill.
To see a list of bills APV is monitoring please check out our Richmond Sunlight page.
---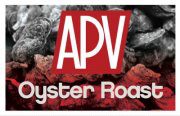 The Alliance for Progressive Values welcomes members of the Virginia legislature and their staffs from across the Commonwealth to Richmond for the 2013 General Assembly with an Oyster Roast. Come out for good food and fellowship and a chance to talk with your elected representatives over some fresh oysters and a beer.
Thursday
January 31st, 6-9 p.m. at:
The Eric Schindler Gallery
2305 East Broad Street,
(804) 644-5005.
$10 for APV members
$25 for general public
Free for GA members and staff
Oysters and beer are included in the cost.
For more information or to RSVP please see our Facebook event page.
---
URGENT, Pro Choice bills rushed to Senate Committee
January 16th, 2013
Tomorrow, with little to no warning the Senate Education and Health Committee will hear all the Senate bills that deal with women's reproductive rights. There are bills that would repeal TRAP, repeal the ultrasound bill from last year and guarantee access to contraceptives. Tomorrow is APV's lobby day and we will have representatives on hand to speak to this legislation. Come with us or join us there. The opposition's goal is to sweep these bills away with little time for public reaction. DON'T LET THEM DO IT!!! These bills are:

Virginia General Assembly Building, 9th and Broad St.
Date of Meeting: January 17, 2013
Time and Place: 8:30 AM - Senate Room B
S.B. 783 APV SUPPORTS
Patron: McEachin
Birth control; definition. Adds a definition of birth control. "Birth control" means contraceptive methods that are approved by the U.S. Food and Drug Administration. Birth control shall not be considered abortion for the purposes of Title 18.2.
S.B. 826 APV OPPOSES
Patron: Garrett
Funding for certain abortions. Repeals the section authorizing the Board of Health to fund abortions for women who meet the financial eligibility criteria of the State Plan for Medical Assistance in cases in which a physician certifies that he believes that the fetus would be born with a gross and totally incapacitating physical deformity or mental deficiency.
S.B. 1080 APV SUPPORTS
Patrons: Favola, Northam
Ultrasound imaging. Provides that no law or regulation of the Commonwealth or administrative action of an agent of the Commonwealth shall require that a person receive ultrasound imaging for nonmedical reasons or ultrasound imaging that is not medically indicated as a condition of receiving a medical procedure.
S.B. 1082 APV SUPPORTS
Patrons: Northam, Favola
Ultrasound prior to abortion. Removes the requirement that a woman undergo a transabdominal ultrasound prior to an abortion.
S.B. 1115 APV SUPPORTS
Patron: Herring
Classification as hospitals of certain facilities in which abortions are performed. Eliminates language classifying facilities in which five or more first trimester abortions per month are performed as hospitals for the purpose of compliance with regulations of the Board of Health related to construction, maintenance, operation, staffing, and equipping of hospitals.
S.B. 1116 APV SUPPORTS
Patron: Herring
Design and construction standards for certain facilities. Provides that regulations of the Board of Health for the construction, maintenance, operation, staffing, and equipping of hospitals shall apply to facilities in which five or more first trimester abortions per month are performed only when the design or construction of such facility is initiated after July 1, 2013. This bill includes an emergency clause.

---
APV's New Year's Fund Drive
We have a very busy year ahead of us at APV, starting with the Virginia General Assembly in January. APV will have a strong presence at this year's GA, working for sensible gun laws, clean elections, women's reproductive rights, clean & renewable energy, a continuation of the uranium mining ban and equality for our LGBTQ friends and family. We need your help to do this effectively. Can you make a donation today to keep APV's progressive voice front and center in Richmond in 2013?
---
NOVEMBER
Governor McDonnell's Working Group on Uranium Mining
Science Museum of VA, November 27th, 2012
APV members were everywhere at the final public meting of the Governor's Working Group on uranium mining in Virginia, held here in our backyard in Richmond. Below are brief comments made by Public Policy Director Scott Price. Other APV members spoke including Energy task force member Erica Gray. The Working Group will issue a report next month that is expected to be used extensively during the debate on lifting the 30 year old ban on mining uranium in the Commonwealth at this year's General Assembly.
"APV opposes lifting the ban on uranium mining:
Last year's report from the National Academy of Sciences warned of serious barriers to safely mining uranium in Virginia, we ask you to heed those warnings.
Virginia comprises a unique environment for uranium mining. It is wet, prone to extreme weather and heavily populated. Nowhere else in the world do we mine uranium where this combination exists? As global climate change escalates and our population grows, these issues will only be exasperated. We should not turn the Commonwealth into an experiment or a cautionary tale.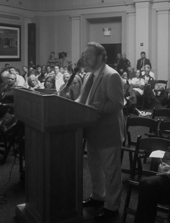 This interest in mining uranium in Virginia is focused on an incredibly short sighted, profit driven outlook that will benefit a few shareholders and executives while at the same time putting many, many Virginians including generations yet unborn at needless rick.
The process will leave a waste product that will have to be contained and dealt with for centuries. It will have an adverse effect on the surrounding area, the local farming industry, and tourism long after the deposits are played out and the mines are closed.
Radiation from the tailings will almost assuredly make its way into the water table in the region and could adversely impact other parts of the state such as the tidewater area.
Virginia does not have the regulatory infrastructure to properly deal with uranium mining in the state. Only around 1% of general funds go to environmental programs and those numbers are under constant assault. The effects of the mining will last generations and there is no evidence that the industry or government officials are prepared to handle the eventual damage and clean up that uranium mining will produce.
We acknowledge the need for good jobs in the Coles Hill, Pittsylvania area, but this project will not significantly alleviate the employment problem there.
Uranium mining like all mineral extraction is based on market forces, there is no guarantee that once mining begins it would continue if the market dropped which has happened in the past and will again.
Industry sources originally claimed the project would provide 1,000 jobs in the area but that number has fallen to just over 300 and may drop further. Uranium mining is a very mechanized and specialized process that would rely on experienced miners from other parts of the country and the world. There is no reason to believe that many of the jobs created at the Coles Hill site that went to locals would be either high paying or stable. The region would do much better instead to invest in good paying jobs in the emerging energy industries of the 21st century like plentiful, clean and safe renewables. Rather than a dangerous short term fix for present economic issues, let's bring solar and wind to this part of the state and create a cutting edge industry with lasting benefits instead of an aging industry that comes with lasting detriments.
APV supports keeping the ban on uranium mining in Virginia."
Scott Price
---
When Politics Meets Science
Excerpted from an APV policy brief prepared by our Sustainable Agriculture Task Force. APV will be lobbying the General Assembly and McDonnell Administration on this important topic during the upcoming 2013 GA session.
Atlantic Menhaden Fishery: A Disaster in the Making
"McDonnell's rulings have almost exclusively benefited Omega Protein and their clients and constituents. In 2006 alone Omega, the only player in the bay menhaden harvest, gave McDonnell a total of $29,744 in campaign money and $62,000 to key state lawmakers. Over the last six years, Omega political contributions have increased dramatically, now estimated at a total of over $235,000.00 to all politicians and $60,000.00 to now-Governor McDonnell alone.

The most recent menhaden stock assessment indicates the mortality rate is past the threshold of overfishing and has moved increasingly towards overfishing indicators over the last 8-10 years."
Read more here.
---
APV November Salon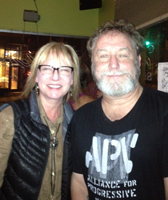 Our November Salon at Helen's was very special. The event was very informative and often deeply moving. APV wishes to thank Dr. Lisa Griffin and the transgender individuals who came out tonight to discuss the science of gender and sexuality and the many challenges members of the transgender community face daily. Thank you.
---
OCTOBER
Northern VA Fundraiser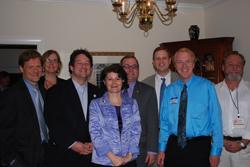 The Alliance for Progressive Values was in Northern Virginia on October 25th for a fundraiser. We were proud to have Virginia Progressive Caucus Co-Chairs Sen. Adam Ebbin and Del. Patrick Hope as well as Sen. George Barker, Sen. Barbara Favola, Del. Mark Keam, Del. Rob Krupicka and Del. Alfonso Lopez as our guests. We talked about the challenges of the coming General Assembly session and our goals moving forward including funding clean energy, encouraging economic fairness and protecting women's reproductive rights. The fundraiser was a great success and we look forward to more events as our presence in Northern Virginia grows. Special thanks goes to our hosts Mr. and Mrs. Roger Price for graciously opening their lovely home to us.
---
Virginia Board of Corrections tentatively approves new rules on shackling of pregnant inmates
The issue of shackling pregnant inmates, even during labor and delivery has been one that the Alliance for Progressive Values has taken a strong interest in. APV's President Stephanie Rodriguez testified passionately in support of Delegate Patrick Hope's bill to end the practice before sub-committee during last year's General Assembly. On Wednesday, October 17th, the Virginia Board of Corrections tentatively approved regulations that would largely end this dangerous and inhumane practice in the Commonwealth. APV supports regulations that protect women and their children during delivery even when those women are incarcerated and the Board's ruling is a move in the right direction. Missing from the proposed regulations are measures that would hold guards and corrections officials accountable and prevent the casual use of shackles as we believe now occurs. We'll wait to see the final draft in November before we make and official statement, but we feel confident that agreement can be reached by all parties that stops the shackling of pregnant women in Virginia.
http://www.dailypress.com/news/breaking/dp-nws-wire-va--shackling-pregnant-inmates-20121017,0,5109442.story
---
Violence Against Women Act
This October marks the 18th anniversary of the original passage of the Violence Against Women Act which broke new ground in protecting women against domestic violence, sexual assault and stalking. Over the years the bill has expanded to protect other communities with similar problems, including men. As part of our celebration of National Domestic Violence Awareness Month, APV is proud to partner with UniteWomen and the Central Virginia Chapter of NOW to sponsor the EAV Project, "Expressions Against Violence", a multimedia online and physical installation intended to provide a creative outlet for the survivors of domestic violence and those who know and love them. Submissions are being taken through Oct. 15th. Contact us at projecteav@gmail.com. Here's a link to the Invitation.

The VAWA is up before Congress for reauthorization this term. APV supports the version introduced by Sen. Patrick Leahy of Vermont and passed by the Senate earlier this year. Here is APV's letter to Congress asking for passage of S.1925 the Violence Against Women Reauthorization Act of 2011.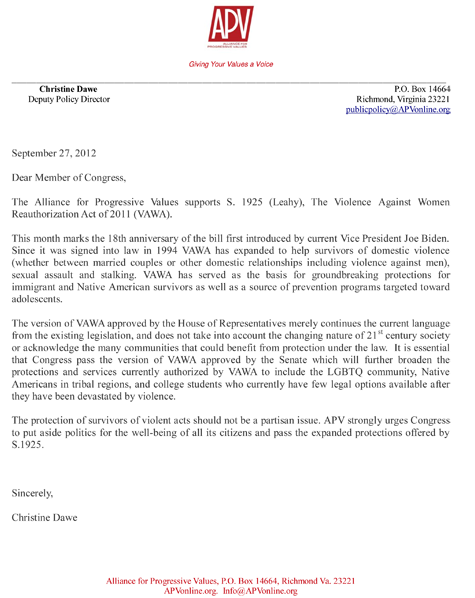 ---
SEPTEMBER
North of the James article
Great article on APV in North of the James Magazine's Sept/Oct. issue. Our strength lies in our members and we're only getting stronger.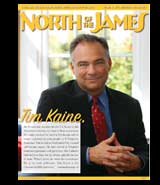 (To download issue please click image above. Large file may take several moments to load.)
---
Candidate Forums 2012
In September APV focused on the local elections here in the City of Richmond cohosting two candidate forums with Virginia Commonwealth University and a number of other progressive organizations.
On September 13th we hosted candidates for City Council and Mayor for a lively debate that covered budget, jobs, environmental and smart growth among other topics. It is clearly important for voters to get an opportunity to hear each of the candidates outline their platforms, but is also important to have a record of their opinions and answers to hard questions for after the election. APV will be there to hold them to their promises to our citizens. We want to particularly thank our guest moderator Dr. Kim Allen, Executive Director of the MLK Living History and Public Policy Center Center.
On September 20th we hosted candidates for Richmond City School Board at the Commons Theatre on the VCU campus. Again the discussion was interesting and informative, ranging from the RPS's large budget gap and student performance to green energy and administrative accountability. Our moderator was APV's citizen lobbyist and education activist Kirsten Gray. Our thanks to all the organizations involved and to VCU for the venue. Our special thanks to the candidates for making time in their busy schedules and to the large informed audiences that attended. Below are links to press and video on and from the events.
Richmond Times Dispatch City Council Forum
Richmond Times Dispatch School Board Forum
Part 1 of School Board Forum Video
---
Virginia Board of Health Decision on TRAP
September 14, 2012
Today the Virginia Board of Health caved into pressure from the radicals in the administration and to Attorney General Cuccinelli and on a vote of 13-2 withdrew the amendments it had earlier passed that would have allowed existing clinics in the Commonwealth to continue operation. In doing this the Board furthered the radical and anti-woman agenda that the Governor and Attorney General have pursued from the onset. While this was not unexpected, it is immensely troubling. Not only are these regulations designed to strip Virginia women of their practical rights regarding abortion, they mark the entrance of political calculations and religious opportunism and bigotry into the medical regulatory process. This is a dark day for the women of Virginia and our Commonwealth as a whole. While this phase of the struggle is over, rest assured that APV will continue to fight to overturn these onerous and punitive regulations and to protect the rights of women going forward. Next year the people of Virginia will have an opportunity to vote out those who have brought us to this lamentable and embarrassing situation. This is not over, we will not forget!
---
Coalition Against Nukes Action in DC
September 20-22
The Alliance for Progressive Values supports a swift as possible transition from fossil fuels to clean, renewable and safe energy options. In this context we have been deeply skeptical of the role some have forseen for current nuclear fission power generation. The nuclear power industry has a long record of cutting corners and dodging accountability and we believe that there are better, safer, more cost effective and environmentally responsible ways of moving our nation and the world forward in the 21st century.
With this in mind, APV has endorsed the three day action in Washington DC on September 20-22 sponsored by C.A.N. (Coalition Against Nukes, more information on the full range of events is available at their website). In particular we would like to draw your attention to a Congressional briefing on September 20th. This briefing is open to the press and public but is geared at members of Congress and their staffs. Congressman Dennis Kucinich is hosting the briefing which will focus on the medical effects of radiation exposure, the threats to health and safety presented by our nation's nuclear power plants, nuclear fleet and the on-going tragedy in Fukushima, Japan. There will be expert testimony from the Physicians for Social Responsibility as well as several public health and safety advocacy organizations. Please take a moment to ask your representative to attend this important briefing.
You can find your Congressman and Senator's contact info at the top right of this page and you can send them a copy of the letter below or write your own.
Dear______
Congressman Dennis Kucinich is hosting a Congressional briefing on the medical effects of radiation exposure, and the threats presented by our nation's nuclear fleet, nuclear power plants and the on-going tragedy in Fukushima, Japan. There will be expert testimony from the Physicians for Social Responsibility and a number of advocacy organizations.
The briefing is Thursday, Sept 20, 2-4 pm, Room 121 of the Cannon House Office Building.
The briefing will include testimony from a distinguished panel of experts including:
• Dr. Catherine Thomasson of Physicians for Social Responsibility, the relationship between nuclear weapons and nuclear energy.
• Alice Slater of the Nuclear Age Peace Foundation on the state of the nation's nuclear fleet.
• Michael Mariotte of the Nuclear Information and Resource Service.
• Paul Gunter of Beyond Nuclear on reactor design problems.
• Arne Gundersen on the situation in Fukushima catastrophe
• Arjun Makhijani nuclear engineer on the nation's energy future.

Please attend this important briefing intended to help you understand the significant risks and dangers that radiation poses to human health and the environment.
Sincerely,
---
Moving Richmond Forward
APV Policy Recommendation for the City of Richmond
The Alliance for Progressive Values was founded in Richmond in 2011 with a mandate to educate and engage with the public, the media and our elected officials on a wide range of topics important to the progressive community. APV has had a strong presence at the state and federal levels over the last year and half, but we have not neglected our own hometown.
In the run up to the upcoming November elections for Richmond City Mayor and City Council, the Alliance for Progressive Values tasked our Local Public Policy Department with developing a series of recommendations for the Mayor and City Council members and for candidates running for those offices. What follows is the report they generated with what we believe are solid, doable recommendations that help our city move forward in the fields of renewable energy, transportation, food security, natural systems, and conservation. It is our hope that this report will add to the ongoing dialog about these and other issues. We present this report to the public, the press and our present and future office holders. We especially look forward to the candidates and sitting members' responses to our proposals.
APV Richmond City Policy Recommendations
---
AUGUST
APV Summer Funding Drive
Our summer fund drive is over and we have met our goal! Thank you to everyone who donated. We sincerely appreciate it. Your donations, no matter how small, make a huge difference for the organization. We have an extremely busy election season upon us and many upcoming events and your support makes this all possible. Thank you!
---
Serious Questions About Voter Suppression in Virginia
On Thursday August 9th, the Virginia Board of Elections announced that it had purged the State's voter rolls of thousands of names. After a comparison with data from the Social Security Administration, the Board removed some 10,000 names of deceased individuals remaining on the registered voter list. Clearing the voter rolls of inaccurate information is certainly a laudable and appropriate action for the Board to take, but in light of so many voting related maneuvers by the General Assembly and the McDonnell administration over the last year, and bearing in mind the nationwide voter suppression movement that threatens to disenfranchise thousands, possibly millions of Americans, this purge, so close to the election raises inevitable questions.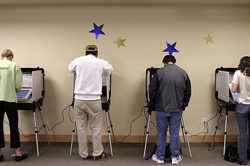 Along with many other states around the nation where Republicans control the government, the demonstratively fictitious voter fraud "crisis" has been used as a wedge to insert new, often misguided and sometimes clearly partisan election laws and rules that together have come to be viewed under the umbrella of "voter suppression" due to their clear tendency towards disenfranchising specific classes of voters like the poor, the elderly, college students and minorities with a track record of voting primarily for the other party. While any single piece of legislation or administrative action may seem innocuous on its face, and even be justified by a professed concern for accuracy, taken as a whole these initiatives appear to constitute a direct attempt to alter the voting landscape in order to effect the upcoming election and elections in the future in a way favorable to the incumbent party.
With this in mind we'd like to raise the following points about what has been going on in Virginia this election cycle:
There simply is NO evidence of voter fraud in the Commonwealth, NONE.

In particular there is NO evidence of widespread or even small scale impersonation, (which is what the I.D. laws is supposedly intended to stop), as a means of voter fraud, NONE.

At present there is NO evidence that ANY of the 10,000 names removed from the rolls was used to cast an illegal vote in Virginia.

There is NO evidence that anyone has voted under the name of a cartoon character or as their pet, an example often held up as a justification for such laws. Just because someone fills out a registration form with a joke name doesn't mean that name passes muster with registrars. Removing those bogus names is part of the registrar's job and they appear to be doing it well.

While the voter I.D. law passed this year does expand the forms of identification allowable at the polls, it also imposes a provisional ballot on anyone without I.D. This ballot will not be counted on election day unless the voter returns and provides one of the forms of identification specified under the new law. In such a case the voter must then go the extra step of later submitting it to their local registrar by 12 noon Friday after the election. Since these new provisional ballots are not the same as real ballots and will not be tallied without the voter's further effort to prove their identity, there is strong evidence that many people who cast such ballots cannot or will not go through the time and trouble to complete the procedure, thus resulting in otherwise legal votes never being recorded.

We have concerns about the process of issuing new voter cards to every citizen in the Commonwealth so close to the election. There is bound to be confusion and mistakes associated with this roll out and there is little doubt that the most vulnerable members of the community will be the most effected by any errors or delays.

The state has yet to do any voter education regarding the new voter registration cards and the new I.D. law; this may prove particularly problematic in low information communities, the poor, the elderly and voters for whom English is not their first language.

There is evidence that some conservative groups plan to profile and target likely opposition voters with challenges at the polls, both as an attempt to frighten certain groups and to generally muddy and slow the voting process.

Voting machines in Virginia are NOT required to keep a paper trail of votes cast. There is ample evidence that voting machines are vulnerable to tampering and hacking and while we do not question the integrity of individual registrars, we are concerned at a process that relies on an unverifiable technology with proven problems.
Last year at the General Assembly we saw a raft of bills designed to limit access to the polls, we managed to defeat many of the most severe, but the effort to make it harder for certain Virginians to vote did not end there. Across the country the effort to disenfranchise voters continues on many fronts and in many insidious ways, for instance the tendency of having fewer voting machines at polling stations in working class and minority neighborhoods--which result in longer lines and a curtailed opportunity for people in these communities to vote. At a time when we should be encouraging participation by underrepresented Virginians we could be creating a generally more hostile environment where certain voters are made to feel more like suspects instead of citizens. We are worried that all these factors will add up to fewer people exorcising their right to vote at a time when participation is already historically low. That is why we will continue to closely monitor this process and speak out when we have concerns. The right to vote is at the heart of our democracy, and partisan attempts to make it harder for some to exercise that right damage our communities, our Commonwealth and our country.
(Photo by Jeff Kearns)
---
APV August Salon
August 13th, 2012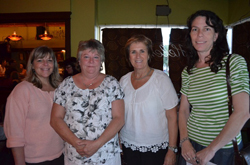 The August salon was a great success. A huge thanks to our guest speakers, Nicole Anderson Ellis, Gay Stokes and Victoria Campbell. The speakers shared information about the proposed widening of the Route 5 corridor, community garden projects around Richmond and ways for Richmond residents to earn Stormwater Utility Fee credits and ways to reduce stormwater runoff. The speakers left us with a wealth of information and insight. Thanks also to everyone who attended.
---
JULY
NAS: Lessons Learned from the Fukushima Nuclear Accident for Improving
Safety and Security of U.S. Nuclear Plants
On Thursday July 19th, the National Academy of Sciences held preliminary hearings in Washington D.C. on a report it is working on that accesses the lessons learned from the ongoing Fukushima disaster. APV members and staff were in attendance and we have submitted the following comments and questions to the committee. Special Thanks to APV Deputy Policy Director Jonathan Cunningham and Erica Gray for their work. Here is a video of the comment period with APV's Erica Gray's testimony: http://www.tvworldwide.com/events/nas/120719/default.cfm?id=14771&type=flv&test=0&live=0

The Alliance for Progressive Values appreciates the work of the National Academy of Sciences panel on the lessons learned from the ongoing disaster in Fukushima prefecture in Japan as a result of the earthquake/tidal wave which occurred in 2011.

We look forward to seeing the results of the panel's inquiry but believe that several basic points should be obvious to any observer and should be addressed by the panel in its report.

At 2:46 p.m. local time, on Friday, March 11, 2011, a powerful M9.0 earthquake occurred offshore of the east coast of the Tohoku region on the Island of Honshu, Japan. Ground shaking duration lasted for over five minutes in many areas, including Tokyo. Sea floor deformation associated with the subsea fault movement generated a devastating tsunami, impacting the eastern coast of the Tohoku region. In addition to untold damage to Japanese property and a casualty rate in the tens of thousands, this natural disaster created a man-made emergency; the still-unfolding catastrophe at Fukushima. This disaster was caused by, in the words of the Japanese government; "... regulatory agencies and Tokyo Electric Power management deliberately postponing decisions, not taking action or taking decisions that were convenient for themselves... they effectively betrayed the nation's right to be safe from nuclear accidents. Therefore, we conclude that the accident was clearly 'man-made'."

In other words, this disaster was the result of a combination of corporate and government negligence, malfeasance, poor design, inadequate safeguards, inadequate back-ups, and the initial decision to build a nuclear power plant on or near an active fault line. These utterly preventable mistakes lead to the escalation of an already horrific natural disaster that continues to unfold, the first radioactive results of which have begun washing ashore on the Pacific coast. Here in Virginia we have a nuclear power plant that was knowingly and illicitly built on an active fault line that was rushed back into service after cursory inspections following an unexpected earthquake that exceeded plant capacity, marking the first time a US nuclear plant has ever been knocked offline. During the quake, shutdown, and inspections afterward, we learned that one of the four back-up generators failed, the vertical dry storage waste casts shifted, that mandatory seismic sensors were missing while others were not properly located, and that one of the wells on the North Anna site contained radioactive tritium. Since the earthquake we have had over 100 aftershocks at the epicenter of the original quake. In October of 2011, we filed a 2.206 emergency enforcement petition to address these issues, and most of the original sixteen points made have been deferred (industry-speak for "Not our problem.")

The seismic event that occurred a year ago this August should have been a wake-up call to industry and government that it needed to step up to its responsibility to provide safe energy, but instead we are treated to empty platitudes and emptier promises. Whilst failing to address the concerns stated herein, the NRC preceded to not only provide an exemption for improperly stored fuel rods exceeding their cast design, it also granted Dominion a stellar safety rating in 2011.

In light of the ongoing Fukushima disaster, APV asks the following questions:
How is it wise of the NRC to be fast tracking new reactor construction, extending licenses on aging plants for 20 years and increasing power loads before we fully understand, or are even informed of, the lessons in the upcoming report?

Will this report address the issue of storing spent fuel and other radioactive material on site?
Today, nuclear plants are required to have evacuation plans covering a 10 mile radius from the reactor. Within a few days of the Fukushima event, the U.S. State Department was advising American citizens in the area to evacuate to beyond 50 miles. In Virginia, the North Anna plant is 39 miles from the state capitol in Richmond (metro population of over 1 million people). Around the country many plants are located near large population centers. Why has the evacuation planning zone not been extended to the federally advised radius of 50 miles?

---
VA Attorney General's decision on the TRAP regulation amendments
and the launch of Cooch Watch
July 17th, 2012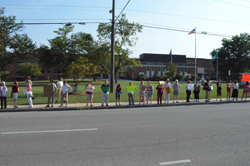 On July 17th over 125 people attended a protest of the Tea Party's event featuring Virginia attorney general, Ken Cuccinelli. Protesters expressed their anger with the A.G.'s decision to put politics ahead of his job and not certify the Board of Health's TRAP recommendations on abortion facilities in the state. The protest was also to announce the launch of CoochWatch.com. The local and national media covered the story and our voices were heard.
WRIC Richmond News and Weather -
More media coverage below.
http://hamptonroads.com/2012/07/ag-stomps-clinic-rules

http://www.motherjones.com/mojo/2012/07/keeping-eye-cooch

http://www2.timesdispatch.com/news/2012/jul/18/tdmet01-next-step-on-abortion-regulations-up-to-bo-ar-2064545/?referer=None&shorturl=http%3A%2F%2Fbit.ly%2FNvIA90
---
"Purchasing Democracy" The Role of ALEC in Writing Our Laws Forum
July 12th, 2012
The threat to democracy posed by the shadowy American Legislative Exchange Council (ALEC), who craft "model" bills that favor corporate interests across the country, was the subject of a forum held July 12th in Arlington, Virginia. The Alliance for Progressive Values' Policy Director Scott Price attended the forum and took part in the question and answer period afterwards. The video is approximately two hours long.
---
The Heritage Foundation & Family Research Council's Value Bus comes to Richmond
July 10th, 2012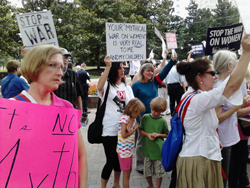 The "Values Tour Bus" rolled through Richmond Tuesday, July 10th featuring speakers from the Heritage Foundation, The Family Foundation, The Family Research Council (designated by the Southern Poverty Law Center as a Hate Group), the Eagle Forum and others. They came to refute the so called "War On Women" which they allege is a liberal plot to make women antagonistic towards conservatives and their ideas. APV joined a lot of angry women Tuesday to let everyone know that we're not buying it. The counter protest far outnumbered the supporters who seemed to mostly come from local Republican campaign staffs, and we didn't let them get very far with their disinformation and falsehoods. As APV Policy Director Scott Price said:
"From the first moment when the lady from Heritage described her employer as "bipartisan" on through the end, it (the misinformation) was constant. They are right about one thing though, it's not just about abortion and contraception. These are the same people who want to cut funding for TANF and SNAP, they want to drug test women in these same programs, women without any criminal records, they voted on mass against the Lilly Ledbetter Fair Pay Act (EVERY REPUBLICAN IN CONGRESS, EVERY ONE, VOTED AGAINST IT), They've voted against laws that would protect women soldiers who are raped by other soldiers, they've fought against outlawing sweat shops and stoop labor (often performed by immigrant women and their children) and they have fought tooth and nail against the Affordable Care Act, so called "Obamacare", which while flawed in many ways, still marks a major improvement for healthcare for our nation's women. And these people have the nerve to come to Richmond and spew their bile and vitriol while all the while complaining that we're twisting their words, shame on them!"
Our friends on the right want you to look the other way and to not pay attention to what is happening in this country and in this state, but it won't work. All the bus tours in the world won't change the record and the record is clear, the GOP and the radicals who control it are out to repeal the 20th century and drive women back into the kitchen and the back alley. But with your help, we're not going to let them.
---
APV July Salon
July 9th, 2012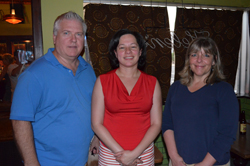 A huge thanks to Delegate Jennifer McClellan for coming out to the one year anniversary of the APV Salon! We had a great turnout & a lot of audience participation, as always. Del. McClellan talked to us about voter suppression, energy/Dominion Power, women's rights issues, future legislation, Senator Yvonne Miller, and many many more pressing issues facing Virginia. Thank you to Mrs. McClellan for coming to speak with us not once, but twice! We hope to see you all again at our August Salon on August 13th.
(photo: APV Task Force Director Roland Winston, Delegate Jennifer McClellan and APV Board Member Rhonda Hening)
---
APV Appoints new Women's Rights Task Force Director
July 4th, 2012
It is our pleasure to announce that Ms. Christine Dawe is coming on board as APV's new Deputy Director for our Women's Rights Task Force effective today. Ms. Dawe is a Richmond native and a graduate of Virginia Wesleyan Collage in Hampton Roads. Christine will work on issues including women's reproductive rights, violence against women, pay inequality and other matters impacting women in the Commonwealth and across the nation. This is a very important task force at any time, but especially now when women's rights in so many sectors have come under relentless attack. Please consider getting involved and working with us. Welcome aboard Christine!
---
APV Statement regarding the passing of Sen. Yvonne Miller
July 3rd, 2012

The Alliance for Progressive Values wishes to express our sadness at the news of the passing of Virginia State Senator Yvonne Miller, (5th District). Senator Miller was the first African American member of the House, and the Senate, the first woman to chair a committee in the Senate, and the longest serving woman in Senate history.
"Yvonne was a history-maker and a trail blazer,'' Gov. Robert F. McDonnell (R) said in a statement. "Yvonne made history when she was elected to the General Assembly. But she made the biggest difference in what she did once she got there.''
Sen. Mamie E. Locke, (D-Hampton) chairwoman of the Virginia Legislative Black Caucus, said Miller was a powerful voice for the "underrepresented and underserved."
"The Commonwealth of Virginia has lost a great Virginian, a great legislator and a great humanitarian,'' Locke said. "That irreplaceable voice will be truly missed by all who knew and loved Yvonne B. Miller. She was and will forever remain a giant among women and a role model for us all."
The Alliance for Progressive Values extends our deepest regrets to the Senator's family and friends around the state. She will be missed.
---
JUNE
Take Back the American Dream Conference
June 18th-20th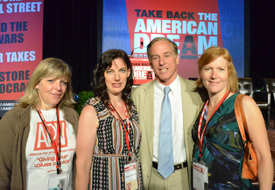 On June 18th-20th APV attended the Take back the American Dream Conference. It was an amazing event with informative speakers and sessions with all the top change makers and organizations in the country. We had plenty of opportunities to network and strategize with other organizations. We met so many great people who are working so hard to make this country live up to its potential. We can be proud of the movement we are a part of. Cheer Up! We're gonna win in the end.
(photo: APV Board Member Rhonda Hening, APV President Stephanie Rodriguez, Governor Howard Dean, and APV Member Kirsten Gray)
---
APV Benefit Show - June 16th at The Camel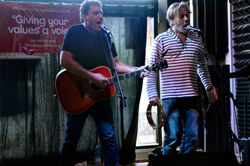 We work hard at APV and so when we get a chance to stop for a moment and relax it is all the sweeter. Saturday, June 16th was one of those times. APV held a fundraiser at the Camel here in Richmond and we were honored to have Stephan Said and Eileen Edmonds perform for us. We had a wonderful time and both performers played great sets. We are particularly grateful to Stephan who took a break from his tour promoting his new album "diferent" to come to Richmond to help us raise some money. Thanks also to our friends at the Camel for the venue and our friends at WRIR who simulcast the concert. We'll have links to audio of the show in the near future. Below is a recording of part of the show from our YouTube channel. Thanks again to everyone who pitched in. Tomorrow it's back to work, but in the meantime, what a great day to be a proud progressive!
---
TRAP Call to Action June 15th
Video from the public comment period at the Boad of Health meeting. Thank you to everyone who spoke against these egregious regulations.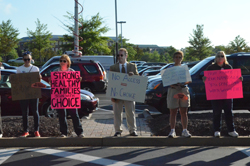 Update: Virginia Board of Health has voted 7-4 to grandfather in existing women's health clinics! This is probably the best we could have hoped for. We do have problems with doing this and yes, we would have preferred scrapping the whole mess, and of course it means underserved areas will remain underserved because there won't be any new clinics anytime soon. BUT, if this holds up it does mean that we will be able to keep the ones we have (until they come back at them next year). THIS IS A VICTORY and it is very much due to the hard work done by so many of you. Thanks to OpposeTRAP and all the other groups and people that stood up and made this a harder vote for the administration than it looked to be. And I want to extend my personal thanks to APV board member Claire Tuite who has been a rock on this issue.
APV, Public Policy Director
Scott Price
---
For the last Year APV, along with a large and growing coalition of organizations and other interested parties, has vehemently and publicly opposed the implementation of so called TRAP (Targeted Regulations of Abortion Providers) regulations imposed by the current administration and supervised by the Virginia Board of Health. In that time we've marched and testified and stood silent vigil to demonstrate our determination to overturn these cruel, useless and wrongheaded rules. On June 15th, APV staff and members will be joining hundreds of pro women's reproductive rights supporters in once again standing up in mute opposition to the Virginia Board of Health's approval of the permanent TRAP regulations. We invite you to join us at 7:30 a.m. at the BoH headquarters at Perimeter Center, 9960 Mayland Drive, Suite 300 in Henrico, Virginia 23233-1463 (directions here) to once again silently and peacefully state our position. For more information on this action we suggest you go to http://www.facebook.com/OpposeTRAP and to read APV's letter to the Board and for other information go here.
---
APV June Salon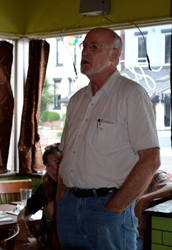 APV celebrated the one year anniversary of our monthly Salons on June 11th. We're very proud of this very successful program, and we marked the occasion with an interesting and highly informative discussion of our criminal justice system. We'd like to thank Phil Wilayto from the Richmond Defenders speaking on short notice. For the record, APV does not take a position on the guilt or innocence of any specific individual in the legal system. We have serious concerns about the impact on this system of privatization, out of control spending and skyrocketing incarceration rates much of which can be traced to the failed war on drugs. Again, thank you to Mr. Wilayto and we look forward to seeing you in July.
---
MAY

APV calls on the Virginia Department of Corrections, The Governor and the General Assembly to begin an immediate investigation into conditions at Red Onion State Prison.
FOR IMMEDIATE RELEASE
May 25th, 2012 – Richmond, Virginia

The Alliance for Progressive Values wishes to acknowledge and highlight the ongoing prisoner hunger strike which began this weekend at the Red Onion SuperMax facility in Wise County. SuperMax prisons are by definition grim places. They are designed to house individuals who are considered dangerous to the staff and other prisoners as well as the public. Many of these prisoners suffer from mental illness and have histories of anti-social behavior and violence. Clearly the job of guarding and administering such a population is difficult, and at times trying.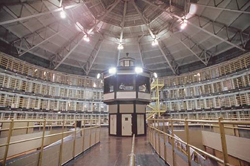 HOWEVER, we as a society have chosen to take on the responsibility that goes with the right we reserve to incarcerate. It is incumbent on us to house and care for these individuals in a way that is fundamentally humane and that acknowledges their basic rights as human beings, not merely in a way that satisfies particular rules, but in a way that reflects on us as a people, and how we choose to treat a despised and powerless segment of society. On May 21st, prisoners in two segregation pods began a hunger strike in protest of the conditions at Red Onion. After over a decade in existence, Red Onion continues to have serious problems including the murder of a prisoner in custody and claims of physical and sexual abuse at the hands of guards. The prisoners' list of grievances casts a wan light on an institution that clearly needs better oversight.

APV calls on the Virginia Department of Corrections, The Governor and the General Assembly to begin an immediate investigation into conditions at Red Onion. We also counsel that third parties be part of this investigation and that they include groups which speak for prisoners.

Issues that should be addressed in such an investigation include:

• Claims of ongoing abuse and violence directed at prisoners from guards.
• The current practice of indefinite segregation and isolation as a means of punishment.
Indefinite solitary confinement is both inhumane and counterproductive as a means of discipline.
• An end to the caging of prisoners in stacked cells. This is deeply degrading to the inmates and
should be a cause of shame to the Commonwealth.
• Apparent problems with the grievance system and an introduction of a better system for
problem mediation between prisoners and staff.
• Investigation into the prisoners' diet, clean cells and other basic aspects of how Red Onion is
run on a day to day basis.
• The continued poor communications between administration and inmates.

Invariably we will be told that these are the worst of the worst, that they are getting exactly what they deserve and that we on the outside have no idea what goes on behind those prison walls. BUT many of the men now behind bars at Red Onion will one day be released. Many of them were originally convicted of lesser crimes and found their way to Red Onion because of conduct issues. From troubling reports which have seeped out over the years and new complaints from inmates, it appears that whatever ameliorative effects incarceration might once have been thought to have, nothing of the kind is occurring here. Instead, we have a correctional system which in its zeal to punish and control is in fact helping to create potential monsters who will eventually be returned to their communities - angry, hardened and often further and more deeply disturbed by their stay in prison. It serves us best as a society to treat these individuals with enough respect and dignity while they are in our power, that when they emerge, they are not actually worse people than when they went in.
---
Statement on Thorne-Begland nomination rejection
May 15, 2012
We're very disappointed if not very surprised that the House of Delegates rejected the Thorne-Begland judgeship nomination. Tracy Thorne-Begland is an openly gay prosecutor here in Richmond; he has a sterling record and should have easily been appointed to the bench. But the radical Right led again by Del. Bob Marshall and the Family Foundation used its oversized power to sink the Thorne-Begland nomination yesterday at the Capitol in a largely party line vote. While all the other judges got near unanimous approval Thorne-Begland received only 33 votes. In a year that already feels like one endless embarrassment, it is yet another black mark on the Commonwealth that here in Virginia in 2012, such base bigotry should be on such banal display in our legislature. Sometimes it seems as if these people have no shame. We should note that local Republican Delegate Manoli Loupassi, who co-nominated Thorne-Begland, supported and voted for the prosecutor in chambers yesterday. We don't always agree with Manoli, but we are grateful for and acknowledge his courage here.
---
Richmond City Council's Public Hearing on the RPS budget
Below is APV's statement on the Richmond Public Schools' budget shortfall delivered by Citizen Lobbyist Kirsten Gray before the Richmond City Council, on May 14th, 2012.

The Alliance for Progressive Values supports the use of city funds to make up the shortfall in the Richmond Public Schools' budget. While the issue of school funding and the operation of the City School system are complex and often contentious, we believe that it is appropriate in this case to extend the funding and make up the difference because not to do so would allow an even heavier burden to fall on the teachers, parents and students at the heart of RPS.
Many diverse factors have been at work to bring us to this situation and many of these factors are beyond the ability of local entities to influence. The ongoing fallout from the economic collapse at the end of the last decade has forced systems and individuals into stark and often painful compromises, and the schools system has not been immune. We are also dealing with an administration and legislature at the state level that is clearly antagonistic towards teachers and public education in general, and which has rolled back state education funding in the biannual state budget to 2007 levels. For a decade we've had to deal with a federal education program more interested in test scores than in educational outcomes, and more interested in punishing low achievement than in encouraging high achievement. Big city schools systems are the first to feel the effects of these policies and they often feel them most acutely. Urban school districts are often posed with unique and difficult circumstances that arise from systemic issues that affect the larger community as a whole. Poverty, crime and the lingering effects of racism all have an impact on urban schools and need to be understood, acknowledged and ameliorated to the best of our abilities.
In the specific case of the Richmond Public Schools, we have many instances of success in the face of hard challenges and we need to build on these successes and nurture and support the principals and administrators who are working so hard to enrich the lives of our children. While proving that success and achievement are readily attainable in even the most hard-hit and traditionally under served communities, RPS still suffers from many of the ills associated with large bureaucracies. There seems to be a knee-jerk opposition in some quarters to new ideas and change and a predisposition towards factionalism and a tendency to let interpersonal conflicts guide policy. In the case of this budget, the school system seems to have had clear signs that belt tightening was needed, but instead it ignored the looming problem and the advice of auditors and experts and went ahead with a "business as usual" attitude. That included a large and ill-timed raise for the superintendent while buildings stand idle and teachers have to go into their own pockets for supplies so that students won't go without.
Some will argue that City Council should not make up the deficit in the RPS budget; they will say it is sending good money after bad and that the system is badly broken and this should be a wake-up call. They are right that this needs to be a wake-up call. This crisis should be seen as a chance to make serious and substantial changes to the way the RPS operate. We need real accountability and we need to listen to parents and teachers more than professional bureaucrats, some of whom seem more interested in protecting their personal fiefdoms than serving their community.
We support the City Council making up the difference this year because not to do so would be to further exacerbate an already difficult situation for the families most affected. But we want this money to come with the understanding that real, substantial changes must follow. The school system has been given many options on how best to utilize its limited resources and they need to do a better job in the future, but for now we need to step in and help bridge this gap. In conclusion we ask that the City Council find the funds to meet this crisis.
---
May Salon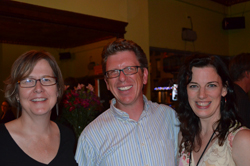 Thank you to everyone who joined us May 14th, 2012 at our monthly Salon at Helen's Restaurant. We gathered for good food & hardy discussion. Thank you to Jake Helmbolt for his engaging discussion about what the city is doing regarding urban planning for public transportation, pedestrian walkways, bike paths & trails. There was no shortage of questions and great ideas!
---
Letter to the Virginia Board of Health regarding TRAP
On May 10th APV and many of its members joined women's reproductive rights activists from across the Commonwealth in asking the Virginia Board of Health to reject the final, emergency rules governing clinics that perform abortions. These onerous and unnecessary rules will have a devastating effect on women's access to abortion in the Commonwealth and APV has opposed them since their original passage in 2011. Below is our letter sent to BoH Chairman Bruce Edwards.
Dear Chairman Edwards:

I am writing to you today regarding the emergency regulations that are now before the Board of Health on clinics that perform abortions as part of their medical services for women. Because of their specificity and their punitive nature, these regulations are often referred to as Targeted Regulations against Abortion Providers or TRAP. TRAP represents a coordinated and targeted assault on women's reproductive healthcare in Virginia and I have written to, and testified before your board in opposition to them in the past on behalf of the Alliance for Progressive Values. In implementing these regulations the Virginia Board of Health is placing extremely cost prohibitive regulations on abortion clinics when abortion access in the Commonwealth is already limited. The regulations have no basis in medical best practices and serve only to make it harder for women to gain access to a legal and safe procedure. In fact, an advisory panel of medical experts found these regulations to be medically unnecessary, sadly their recommendations have been ignored.
Both in my official capacity and as an individual citizen, I strongly urge you and your fellow members at the Virginia Board of Health to allow the current emergency regulations to expire. Clinics that provide abortions as a part of their women's health services should be held to the same standards as other clinics that provide safe, outpatient medical services. There is no medical reason that abortion clinics should be regulated any differently from other clinics, especially given that abortion is one of the safest procedures in outpatient medicine.
Sincerely,
Scott Price
Public Policy Director
Alliance for Progressive Values
---
NEW APV TASK FORCE DIRECTORS
May 9, 2012
APV is pleased to welcome Mr. Chris Saladino and Mr. Jonathan Cunningham to our Public Policy Department. Both of our new Deputy Directors bring strong backgrounds with them that inform their work at APV.
Chris Saladino will head our task force on Sustainable Agriculture and the Food Supply. He is a political science professor at Virginia Commonwealth University and did his post-graduate work at the University of Virginia. Professor Saladino specializes in international relations and comparative politics.
Jonathan Cunningham will head the Environmental and Clean Energy task force. He is an activist and student and has been active with the Occupy Wall Street movement and with the reproductive rights for women movement here in Virginia.
Lawrence "Jay" Tubb
APV Press Liaison
Alliance for Progressive Values
---
APV testifies at the hearing on Dominion's IRP - May 8th, 2012

Alliance for Progressive Values Public Policy Director, Scott Price, testified before the Virginia State Corporation Commission on May 8th, 2012 on the proposed fifteen year (15) Integrated Resource Plan (IRP), submitted by Dominion Power/VEPCO. On behalf of APV, Mr. Price asked the board to reject Dominion's plan which contains little to nothing in the way of alternative energy options like wind and solar and instead focuses almost exclusively on a fossil fuel future for the Commonwealth.

"With enormous profits should come large responsibilities." Scott Price
Here's an article in the Huffington Post about the hearing and APV is quoted.
http://www.huffingtonpost.com/2012/05/08/dominion-virginia-power-criticized_n_1500978.html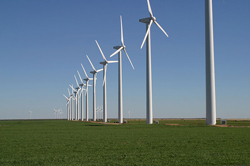 Below is a statement from APV Deputy Policy Director and Environment and Clean Energy Task Force Chair, Jonathan Cunningham, outlining APV's position on Dominion's IRP:

While Alliance for Progressive Values commends any effort, no matter how small, to convert to clean, safe and renewable energy sources, Dominion must make a stronger commitment to move away from the dirty energy of the past and embrace the clean and renewable energy that is so clearly our future, for both the health of our citizens and for the energy security of our country. Dominion's recently released energy plan has not made a sufficient effort in this direction- it fails to account for the incumbent costs of fossil fuel use, to move from the risks of nuclear power, or to dedicate a sufficient proportion of its production mechanism to clean energy sources.

As written, Dominion's current plan would derive only a small percentage of its total produced energy from clean or renewable sources over the next fifteen years. Thus, clean energy would account for the power of an unacceptably fractional 36,000 homes out of the two million Virginia customers that Dominion currently supplies. The majority of the plan reflects a continued reliance on nonrenewable fossil fuels and costly nuclear options.

The human and environmental costs of fossil fuel use are well known, and range from local health problems to the global environmental impact of climate change. Dominion's past behavior in regards to nuclear power- notably, their construction of the Lake Anna nuclear plant on a known fault line, and the lies they told the public and regulatory agencies about it- gives us little confidence in their assurances of reliability.

Dominion must expend more effort in moving away from fossil fuels and nuclear power, towards solar and wind energy.

Solar energy, specifically, is one of the fastest growing sectors of the economy, employing 93,000 Americans as of 2010 (more people than the oil industry employs). So far Dominion has been disinterested in pursuing solar power in Virginia. This needs to change. A distributed grid that features solar as a component would safeguard our energy security, help combat climate change and bring well-paying jobs to Virginia. Dominion's fifteen year plan needs to focus on making it easier for our citizens to access solar energy, not putting further obstacles in their way.

Virginia also has the fourth largest wind potential on the East Coast; there is enough potential energy in offshore wind to power the entire state. Near term, wind could provide as much as 10% of Virginia's energy needs; much more than allowed for in Dominion's fifteen year plan.

Dominion must move to exploit the ample solar and wind resources present in Virginia. We need less foot dragging, more wind farms, more solar panels, and fewer coal-fired and nuclear power plants. The minimal effort Dominion expends on clean energy usage and development has a measurable cost for the state of Virginia: more than half of Virginia's jurisdictions earned a failing grade for ozone pollution, and three failed for particulate matter pollution in a study from the Virginia Lung Association. Today 2.3% of Virginia children and 6.2% of adults suffer from asthma, the highest rate in the nation. These health and environmental effects constitute the hidden costs of a reliance on fossil fuels for energy generation.

By requiring Dominion to pursue clean and renewable energy solutions, the State Corporation Commission can help insure our stable and secure energy future, bring more and better jobs to the Commonwealth, and protect the health of Virginia citizens. The Alliance for Progressive Values councils the SCC to reject any plan that does not contain a substantial clean and renewable energy component.
---
ALLIANCE FOR PROGRESSIVE VALUES GROWS
May 3, 2012
The Alliance for Progressive Values is continuing to grow as the largest progressive outreach organization in central Virginia. The APV Board of Directors is excited to announce three new members of the APV staff.
Ms. Victoria Bragunier - Deputy Public Policy Director
Victoria will oversee our Task Force on Voter Suppression and Clean Elections. Victoria brings with her to APV a strong background in investigative journalism and legislative work here in Virginia and elsewhere. She holds a law degree from the University of Baltimore and is the current President of the Richmond, Virginia chapter of the National Organization of Women.
Lawrence "Jay" Tubb - Press Liaison
Jay is a native Richmonder with years of experience in progressive causes and activism since the Reagan and during the Bush years, volunteering for local candidates and during the New Hampshire primary for Howard Dean. Inspired by the corporate takeover in American politics, Jay has returned to local activism determined to help restore progressive values in Virginia politics.


William Carino – Social Media Director
William started his political journey in high school, volunteering for the John Kerry campaign and later the Obama campaign. In college, William was a coordinator for Virginia21, a non-profit higher education advocacy organization. This past fall, he joined Occupy Richmond performing social media and press liaison responsibilities. William was a lead organizer for the Women's Rights protests at the Capitol during the 2012 General Assembly session, where he also managed social media outreach and press communications.
APV will be filling multiple positions over the next few months as we prepare for the 2012 elections and beyond. Contact information for all APV staff can be found on this site under "Contact Us".

Lawrence "Jay" Tubb
Press Liaison- Alliance for Progressive Values
---
PUBLIC COMMENT ON VDOT SIX (6) YEAR TRANSPORTATION PLAN
Alliance for Progressive Values Public Policy Director Scott Price testified before the Commonwealth Transportation Board on May 2nd in Richmond on the proposed six (6) year transportation plan for Virginia.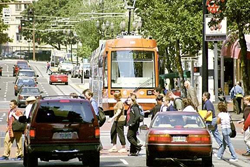 While a number of local jurisdictions appeared before committee to lobby for certain projects, the bulk of the testimony belonged to advocates in favor of less road construction, and more investment in rail and public transportation. Joining Mr. Price in testifying were representatives from the Green Party, the Sierra Club and the Southern Environmental Law Center. In his testimony Mr. Price asked for:
More funding and an expansion of rail projects, including the Dulles Metro, the VRE (Virginia Railway Express) and Amtrak.


More funding to be allocated to strengthen and expand local Bus systems across the Commonwealth.


More light-rail for urban communities. Light-rail has been shown to have a strong positive effect not only on lessening traffic problems and commuter issues, but also in revitalizing the neighborhoods it passes through.


More money for and greater effort towards high-speed rail linking Newport News/Norfolk with Northern Virginia by way of Richmond.


Less emphasis and funding for new road construction and more on maintaining existing infrastructure including bridges and road surfaces.


More funding for pedestrian, bicycle and other alternate forms of transport.


Full funding for the Intercity Passenger Rail Operational Capital Fund. In the present plan, the IPROCF is under-funded to the tune of 190 million dollars over the next six (6) years.


By the same token, the Department of Public Rail Transport which has done very well since its recent inception needs to be supported, expanded and fully funded.


Virginia needs to stop throwing good money after bad on useless and even harmful white elephants like the Outer Beltway, RT. 460 between Hampton Roads and Petersburg, The Coalfields Expressway in Southwest Virginia and the notorious Rt. 29 by-pass in Charlottesville. Not only are these projects a waste of taxpayer money, once started, they will continue to drain funds for years to come, funds that could be used for green projects that serve a real purpose.
The review process for the CTB six (6) year plan will continue and APV will have more on this important issue as well as ways for you to make your voice heard with the CTB. In the near future our Environment and Clean Energy Task Force will have more to say about the vital role of transportation policy in making Virginia a cleaner, healthier and more pleasant place for us all to live.
---
May Day
May 1st, 2012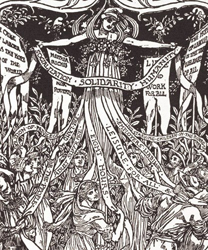 While not officially involved in the May Day events scheduled for today including marches and a call for a general strike, APV is very sympathetic to many of the concerns and aspirations that have traditionally revolved around the first of May. So while the press may end up fixating about confrontations between authorities and protesters we'd like to draw your attention to some of the serious issues that this day's events are meant to be highlighting.
• Stalled wages: over the last three decades the cost of living has continued to rise, but average wages have not moved. While worker productivity has skyrocketed compensation has not kept pace. Instead profits for the wealthy have soared over this period creating the largest gap between rich and poor since the 1920s and effectively shrinking a broad middle class that gave us the strong underpinning that a democracy needs to survive.
• During this same period a concerted war against organized labor has raged. Union busting has been largely successful in much of the United States and there is clear evidence that it has contributed to the previous problem of stalled wages. When workers can no longer bargain collectively to leverage concessions from corporate bosses, the outcome is invariably lower wages, longer hours and less safe working conditions.
• America is the only industrialized nation that does not provide its citizens with a state funded healthcare system. This places massive stress on both industry and on labor. State sponsored healthcare is simply cheaper and more effective than the Byzantine, patchwork system that exists today. While some elements of the 2009 Affordable Care Act were laudable, its focus on preserving the current system was a bad idea and we need to move ahead with a universal, single payer plan that removes the profit motive as the prime indicator for healthcare outcomes.
• In the second decade of the 21st century women still make 77 cents on the dollar compared to their male counterparts. Women deserve equal pay for equal work! Women deserve equal pay, but they also need support if they choose not to work or to work less in order to have children. We need to support American families with longer maternity leaves and better childcare alternatives as well as options for men that would allow them to share more fully in raising their children. Measures like these would go a long way to helping women finally achieve parity. In the meantime, women need to be paid the same as men for the same work.
• America needs a financial system that serves American workers and protects them from the most harmful byproducts of globalization. Companies have to stop being rewarded for moving jobs overseas or from using that threat as a wedge to pry even more concessions from our already battered workers. The continued assault on labor has taken the form of union busting, off shoring, and more recently moves to bring back relics from the Gilded Age, like legal sweat shops and child labor. While a global economy may be inevitable, there is no reason that the burdens and stresses associated with it should be born solely by the workers and their families.
For a generation now America has been steadily moving backwards on issues that involve labor and the rights and privileges of workers. It's time to stop this harmful trend. May Day originated in the U.S. in 1867 as part of the agitation for an eight hour work day. It's sad that 145 years later we're still fighting for some of the same basic rights that fueled the Progressive Movement and the New Deal. Today we urge you to stop and think at some point during your busy day at work, or if you chose to strike or if you chose to do something in between, about the fact that if we don't diligently foster and protect our rights, including our right to a decent wage, a safe working environment and the right to organize and bargain collectively, we will surely lose them. Happy May Day from the Alliance for Progressive Values.
---
APRIL
Carver Community Day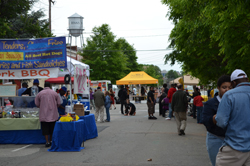 Alliance for Progressive Values had a table at Carver Community Day this past Saturday, April 28th. Members of the community came out to enjoy games, food and entertainment. Several organizations where on hand distributing educational materials, assisting with voter registration and even DMV had a truck on site to process ID cards.
---
APV April Salon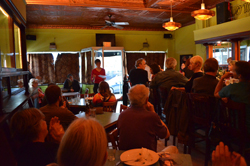 APV's April Salon was really great. We heard from our local Richmond area committee chairwoman, Lora Toothman, about our initiatives in the fields of clean energy, sustainable ag and transportation. Thank you Lora and thank you to the committee for your hard work. We'll be posting more info in the near future.
---
Update: NRC's judgments on petition regarding North Anna
We have received the NRC's judgments on the petition we cosigned last fall dealing with the North Anna reactors and the earthquake in August. While they have taken several of our requests under advisement, or as Paul Gunter from Beyond Nuclear puts it "kicked them down the road", they've either ignored or passed the buck on many others. The NRC's Inspector General will look into some of the irregularities in the rushed start up of units 1 and 2, but we are not optimistic. APV will continue to work on this issue. It is important for the powers that be to know that we are here and we are watching.
---
Inside Job Screening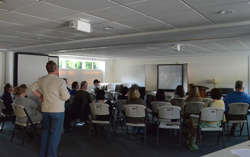 On April 1st APV continued our film series at the Friends Meeting House with the Academy Award winning documentary "Inside Job". We had a lively discussion afterwards about the film and the ways in which our government is manipulated by the finance industry among others. We want to thank the Society of Friends for the use of the hall and Renee Woods Stramel for the use of the projector.
---
MARCH
March to End Dominion's Power Madness
APV along with Greenpeace, Credo Mobile, 350.org, CCAN and VACE are sponsoring an event on March 24th where hundreds of Virginians will come together to tell Dominion Virginia Power to stop blocking renewable energy in our state. Please check out the website (http:www.endpowermadness.com) to sign up and join the APV Team (listed under Central Va teams)!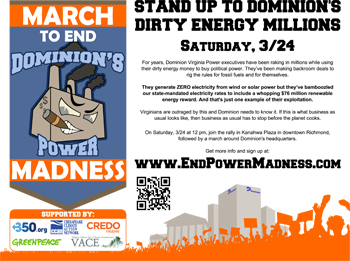 ---
Voter Suppression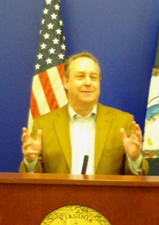 On Thursday, March 15th, APV joined with Va New Majority and other groups to hold a press conference and deliver a petition to the Governor about the voter suppression legislation passed earlier this year. Read APV's statement here.






Here is the news story from Channel 6, WTVR.







---
APV March Salon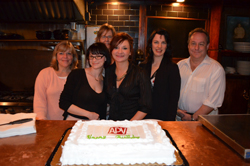 At our March salon at Helen's we celebrated our one year anniversary and what we've accomplished in the last year. Thank you to everyone who came out and to everyone who has supported us in our mission. We see good things ahead! (Photo: APV Board Members, left to right, Rhonda Hening, Claire Tuite, Ann Hardy, Darby Lawes, Stephanie Rodriguez & Scott Price)
---
Remembering Fukushima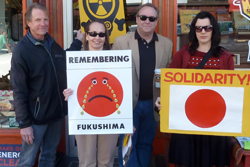 On March 11th, 2012 members of APV joined in solidarity with people around the world to remember the one year anniversary of the nuclear disaster at Fukushima and to raise awareness for the need for clean, safe and renewable energy sources in our country. (Photo: William Pickett)
---
Nuclear Protest at Dominon Headquarters
On Friday, March 9th, 2012 with the anniversary of the Fukushima nuclear disaster approaching and in light of ongoing radioactive tritium leaks at the North Anna Nuclear Plant a protest was held at Dominion's headquarters in downtown Richmond. A coalition of groups including Not On Our Fault Line, People's Alliance for Clean Energy and the Alliance for Progressive Values recently filed a petition with the NRC to expand emergency evacuation zones around US nuclear plants.
---
APV's statement on the signing of HB 462 into law
We are deeply disappointed with Virginia Governor Bob McDonnell's decision to sign HB462, the so called "ultrasound bill" which mandates an expensive, unnecessary and medically useless procedure before a woman in the Commonwealth can obtain an abortion. APV worked against this bill in the General Assembly and last week we started a petition to let the public tell the Governor what they thought of this legislation. In just three days we received over 1,500 signatures largely through a word of mouth campaign. Here is a copy of our petition. On Wednesday, March 5th, APV board member, Ann Hardy appeared on local Richmond radio to talk about the bill (listen here) and our President Stephanie Rodriguez was interviewed on local television during a demonstration.
---
Speak Loud with Silence M3 Rally
Today Saturday, March 3rd 2012, over a thousand people protested at the Capitol in Richmond against the continuing assault on women's reproductive rights. Speakers from NOW Virginia, Women's Strike Force PAC and Alliance for Progressive Values spoke before a well behaved and attentive crowd that included mothers with children, students and many women from the generation that fought for and won many of our fundamental reproductive rights. Ostensibly, the rally was in opposition to HB462, which mandates an unnecessary and medically useless ultrasound for a woman seeking an abortion. APV has worked hard against this poorly contrived piece of legislation that claims to provide women with more information about their pregnancy while in fact acting only to place further barriers between Virginia women and their right to choose. APV's position on HB462 is spelled out in our petition to the Governor here, which we urge you to sign, but in fact this rally was about the ongoing war on birth control and abortion that has been waged throughout the 2012 session here in Richmond. Numerous bills that would make abortion illegal, make birth control illegal, potentially require police investigations of miscarriages, and end funding for women on Medicaid who's pregnancies have gone terribly wrong and most be terminated, have come through the legislature, and we have been successful in defeating almost all of them. But the struggle continues. This year we have seen a full court press against the most fundamental of human rights, the right to control one's own body. Today, as the session winds down, APV members once again stood alongside our brothers and sisters from across the state to implore our elected officials to come to their senses and stop this head long slide aback into the dark ages to paraphrase pro-choice Senator Janet Howell. We are deeply gratified at the large turn out to this peaceful protest and we want to thank the organizers, some of whom are APV members, for their hard work. However the Governor decides to deal with HB462, we want you to know that we will not go away. We are pledged to stand up against those who would try and turn back the clock on reproductive rights, this year, next year and always. Thank you everyone who came out and everyone who was there in spirit.
---
FEBRUARY
APV's Oyster Roast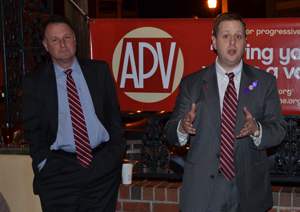 Thursday, February 23rd was a big day in Virginia politics as we witnessed the power that strong lobbying coupled with mass protest can have. We succeeded in convincing our friends across the aisle to do away with the so-called personhood bill that had helped make Virginia something of a national punchline. Thursday was also the date of APV's legislative Oyster Roast. It's been a long, hard session, but Thursday night we had a chance to exhale a little and relax with some of our friends and allies from the Virginia General Assembly. Special thanks to Delegates Joe Morrissey, Patrick Hope and Mark Keam and to Senator Creigh Deeds for attending and to all the staffers who came out to raise a glass and eat. Thanks also to Caliente restaurant for making us feel so at home and to their staff. (Photo: Senator Creigh Deeds & Delegate Patrick Hope address the crowd.)
---
HB 1 "Personhood" Bill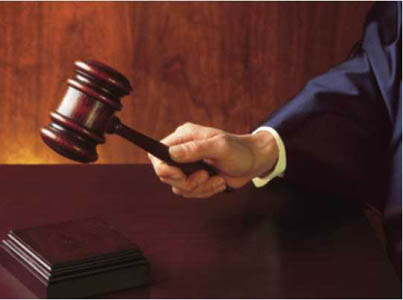 For decades our friends on the right have been railing against "activist" judges who interpret the law as they see fit, and yet the GOP controlled House of Delegates and State Senate are in the process of passing some of the most sweeping and open-ended language in recent memory; language, almost guaranteed to end up being parsed and interpreted in unforeseen ways in the courts of the Commonwealth. House Bill 1, the so called personhood bill, passed the House of Delegates earlier this month by a healthy margin and is now awaiting debate in Committee on the Senate side, but it's only now starting to get the scrutiny that it deserves and the more people see of it, the more they don't like it. HB 1 requires that all the laws of the Commonwealth be interpreted to grant fertilized eggs the same rights, privileges, and immunities, as people from the moment of conception on. In doing so it opens a potential Pandora's Box for confusion and litigation. The bill's sponsor, anti-choice zealot Delegate Robert Marshall of Prince William, says the bill is only meant to establish a civil cause of action for wrongful death of a fetus stemming from harm to a pregnant woman, but Marshall's record and his refusal to amend the bill to clarify the many ambiguities the language raises, tends to belie this claim. Instead the bill, which is similar to language introduced and subsequently rejected in other states threatens to outlaw all abortions in the state de facto and make most forms of birth control including the IUD and the Pill illegal if current Supreme Court precedent is ever overturned and it raises serious concerns about the legality of common procedures surrounding in-vitro fertilization. A harsh but not inconceivable reading of the law could be interpreted to require women who miscarry to report the "death" to the local authorities, who, one would assume would have to decide whether or not to investigate if the "death" was spontaneous and of natural causes or was in fact an act of murder. Such silliness we are told would never happen, but the same people who say this are the ones forever warning us of the overreach of government and the chaos caused by radical, "activist" judges bent on making law from the bench. In this case I am rather inclined to take their warnings seriously.

HB1 is a sloppy piece of lawmaking that in a few terse sentences changes the meaning of the legal term person, which appears almost 25,000 times in the Virginia code to include "unborn children" which it defines as existing from the instant of conception. The bill tries to allay some of our many reasonable fears; it acknowledges that Roe and Griswold are the law of the land… for now, and in Sections 6 and 7 it address some other obvious concerns:

§ 6. Nothing in this section shall be interpreted as creating a cause of action against a woman for indirectly harming her unborn child by failing to properly care for herself or by failing to follow any particular program of prenatal care.

§ 7. Nothing in this section shall be interpreted as affecting lawful assisted conception.

Fair enough, a woman who drinks and smokes during her pregnancy or doesn't stay on her diet can't go to jail for murder if the pregnancy ends abruptly… but what about a woman who takes birth control? Remember conception happens outside the womb, the fertilized egg then implants (or not) in the womb. Most hormonal birth control prevents the fertilized egg from sticking to the uterine wall. By preventing this, the woman on birth control is "directly" intervening to prevent a pregnancy from continuing. The same could go for IUDs that create an inhospitable environment for the new "person" in the womb. It's unclear, to say the least if using many of the most common and safe forms of contraception could be seen as a crime by an overzealous judge. Believe me after Citizen's United, we Progressives have ample evidence of what damage a runaway court can do, and again don't tell me prosecutors won't bring these cases or judges will throw them out. Sure there won't be many, at first, in the sense that birth control might be illegal and women and their doctors may have to seek contraception outside the law and would thus have to hide their actions, so there may be less murder and more smuggling cases. Who knows. We're going into uncharted territory. What happens the first time or the fiftieth time that an aggrieved husband claims his estranged wife killed their child with birth control she bought in gasp, Maryland? The party that rails against nuisance lawsuits when they target corporations is all for opening up some of the most intimate decisions a woman or a couple can make to the tender ministration of the Courts. So this is what they mean by small government and tort reform.

And, what about section 7? What happens to all the "people" that routinely get produced as byproducts of fertility treatments? Doctors often implant numerous fertilized eggs, sometimes this results in large numbers of embryos in the womb. Can the mother look forward to a government official being part of any decision she and her family might make about reducing that number? What about freezing embryos, do the fertilized eggs get a legal guardian? Can the couple be charged with child neglect if they fail to pay for the lab work? Is it legal to freeze a person without their consent? What would be the impact on stem cell research? Would a doctor who performs a risky procedure like amniocentesis that results in an unintended abortion be liable for involuntary manslaughter? None of this is addressed in the legislation and to think such cases won't come up is absurd.

This bill along with the raft of other anti-choice bills that have made this session one of the worst in recent memory for women's rights is part of an overall plan to make abortion and birth control effectively unavailable for women in Virginia. Similar language has failed in public referendums in Colorado and that liberal bastion Mississippi. If put to a popular vote here, I am confident the people of the Commonwealth would reject it out of hand, but the radicals and partisans in the GA and the Governor's office would like to push this through by mean force. In doing so they are also opening a gaping breach in the law that judges and lawyers and magistrates across Virginia will be asked to plug piecemeal. It's time to let them know that that is as bad an idea as conferring personhood on a bundle of undifferentiated cells in the first place. On behalf of the Board of Directors of the Alliance for Progressive Values I urge the legislators and the Governor to stop and consider the many unforeseen ramifications of this dangerous bill. Please say NO to HB1.

Scott Price
APV Public Policy Director
---
Speak Loudly With Silence Protest
On Monday, February 20th, over 1,100 people turned out in one of the largest demonstrations to happen in Richmond in decades, to show their opposition to a series of anti-choice and "anti-women" bills that have been working their way through the Virginia General Assembly. "Speak Loudly With Silence" was the brain child of APV board member Claire Tuite and others. It brought people from across the state together at the Capitol in Richmond to stand as mute witnesses to the ongoing war on women's reproductive rights being waged by the state's Republican majority. On a cold and windy morning state lawmakers walking from the General Assembly building to the nearby Capitol were met by over a thousand silent watchers who lined the walkways between the buildings. It was a powerful and moving message that we sent, that we are watching what they do and that we don't like it. In our conversations with Delegates and Senators later in the day it was clear that message got across loud (or silently) and clear. APV has been involved from the start in the fight to stop restrictive, unnecessary and punitive legislation that would wipe away decades of progress on women's health and reproductive rights here in Virginia. We are very proud of Claire and the work she has done on behalf of women in the Commonwealth and our membership were well represented in the large crowd. Thanks to everyone who came out and to the many organizations and individuals working to turn back the tide of ignorance and fear that threatens to make Virginia one of the most repressive states in the nation on women's rights.
---
February Salon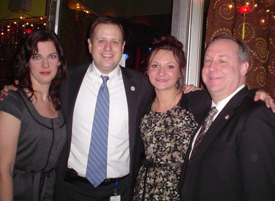 On February 13th, the day before Valentine's Day and the next to last day for the General Assembly here in Virginia to pass bills before crossing over to deal with legislation from the other chamber, APV's Monday Salon was pleased to welcome Delegate Patrick Hope of Arlington. Del. Hope came straight from the House floor and spoke and took questions from the audience for an hour. On behalf of the APV board of directors, I want to thank Patrick for coming to see us after such a long and frustrating day. (Photo: Stephanie Rodriguez, Del. Patrick Hope, Darby Lawes & Scott Price)
---
JANUARY
SB 836: End shackling of pregnant prisoners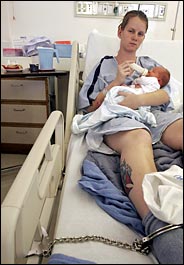 Alliance for Progressive Values President Stephanie Rodriguez, board member Claire Tuite and member Kirsten Gray all spoke at a subcommittee hearing this morning on HB836, a bill in the Virginia General Assembly which would have ended the practice of shackling pregnant prisoners during labor. Debate lasted for over an hour with a large group of speakers from across the ideological spectrum testifying in favor of the bill. Sadly the bill failed to report and is dead for this session. The main opposition came from law enforcement and the sheriff's departments who argued alternately that the practice of shacking did not occur, or if it did it had little effect and must be warranted. Subcommittee Chairman Ben Cline, a prosecutor from Rockbridge, was particularly antagonistic to the bill and claimed that its passage would endanger correction officers, doctors, nurses, the general public and perhaps the state of the union if women prisoners were allowed to deliver their children without manacles. For the record the bill gave wide leeway for corrections officers to use their best judgment in these cases, it simply prohibited the uniform use of shackles which seems to be a prevailing pattern in parts of Virginia. No one wants women, even women in labor, who are a clear and present danger either to themselves or to others, women with histories of violence towards guards or doctors to be unsupervised or totally unrestrained such that others might be hurt, but the fact is that the vast majority of women in prison are nonviolent offenders and there was powerful testimony today that these women would almost certainly be incapable of escape or harming others directly before, during or after delivery.
APV would like to thank Delegate Patrick Hope of Arlington for sponsoring this bill and Delegate Eileen Filler-Corn of Fairfax who cast the only vote in favor of passage. We also want to thank everyone who signed our petition in favor of HB836, you helped us raise awareness about this issue with the general public and legislators and that can only help our cause. APV is involved with the ongoing regulatory process that also seeks to stop this demeaning and inhumane practice. This process is a slow one and can take a year or more, but it is our best shot right now. To read APV's comments and to post your own on the proposed state regs, go here: http://townhall.virginia.gov/L/entercomment.cfm?stageid=6083
The Washington Post reported on the committee and quoted two APV members.
http://www.washingtonpost.com/local/va-house-subcommittee-rejects-bill-to-restrict-use-of-restraints-on-pregnant-inmates/2012/02/09/gIQA52UR1Q_story.html
"The shackling of pregnant prisoners is shameful," said Stephanie Rodriguez, president of the Alliance for Progressive Values.
Kirsten Gray of Richmond (APV member) recounted her own childbirth experience and said it was folly to believe women in such pain could be a threat to public safety.

---
New Year's Fund Drive
Our New Year's online fund-drive was a smashing success. APV had aimed to raise $1.000 in ten dollar increments over the course of the month. With your help we made that number with days to go. THANK YOU all very much for helping us spread a progressive message here in Richmond at the General Assembly and in Congress.
---
SB 484: Mandatory Ultrasound Bill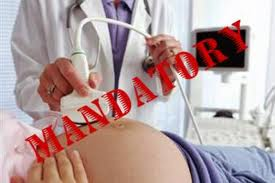 This bill was read on the floor Friday, it will be debated on Monday and the final vote will be Tuesday. The Senate will be in session from 12 noon on. The bill will be debated at some point as part of "bills on second reading, regular calendar". You can watch the debate on the internet here. The vote will be very close and we need Democrats to hang together on this. Thanks.
Scott Price
Update: Thank you to all who lent their support and signatures. Unfortunately, this bill was passed 21 to 18 on Wednesday, February 1st. This is very disappointing, but not unexpected with this General Assembly. We will continue to fight bills in the GA that we feel endanger the rights of women. We will not give up and we will make your voices heard. The tide will turn.
---
APV Lobby Day at the General Assembly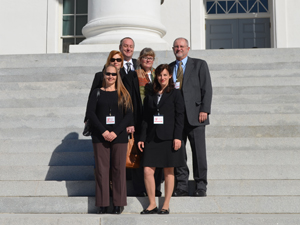 January 24th, 2012 marked APV's first lobby day at the state capitol in Richmond, Virginia. Our team got an early start and we saw a lot of legislators. We talked generally about the importance of keeping the ban on uranium mining and on facilitating the spread of clean, renewable energy and protecting the environment. We also lobbied against specific legislation like the many anti-choice and voter suppression bills that have come on the heels of the Republican takeover of both chambers and the executive branch. The math may be against us as far as the votes go, but we made a strong case for our side and we let them know we're watching and we'll be back. In the coming days, we'll have more information about the bills we're tracking: which ones we support and which ones we oppose. You can follow what we're tracking at the APV page on Richmond Sunlight: http://www.richmondsunlight.com/photosynthesis/08xsj/.
---
January Salon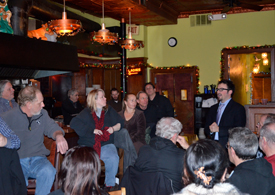 In the midst of the new 2012 General Assembly session, APV held our monthly Salon at Helen's restaurant here in Richmond. Our scheduled guest speaker was Del. Betsy Carr of Richmond, but Delegate Carr was called away on pressing business and her Aide Antonio Ellias spoke instead. As always the discussion was broad and illuminating. Thank you Antonio for speaking on short notice, we will have delegate Carr back again soon.