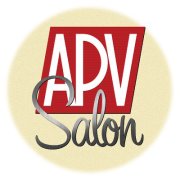 Nothing in this world is more inevitable than death and yet as individuals and as a society we are often grossly unprepared for our final days. Join us Monday, July 10th when we will discuss end of life issues, including ethics, spiritual, palliative and financial choices and the right to die movement in light of the Trump administration.
Our guest speaker this month is Alane Cameron Ford, hospice chaplain and host of "Death Club Radio" on WRIR-FM 97.3.
Please join us Monday, July 10th, from 6:15-9:00 p.m. as APV partnering with our sister organization Together Virginia brings you our monthly Salon.
Each month APV invites members and guests to a casual, after work get together at Helen's Restaurant, 2527 West Main Street, Richmond, VA 23220 for a complimentary light dinner, wine and beer).