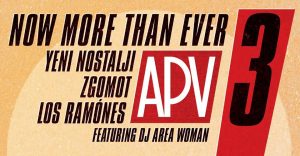 Help APV fight the good fight! Now more than ever.
Come enjoy an insanely eclectic night of music. Los Ramónes, Zgomot, and Yeni Nostalji at The Camel on Sunday, November 12th. Superstar DJ, Area Woman will be spinning records between sets and after.
Doors at 8pm/Music at 9pm.
All proceeds will benefit the Alliance for a Progressive Virginia. Your contributions help us continue our work towards common sense solutions regarding the environment, LGBTQ issues, voting rights and election reform, women's rights and reproductive health, mass-incarceration and the failed drug war, civil rights and liberties, food stability/sustainability and the humane treatment of animals.
Los Ramónes:
https://www.facebook.com/vivalosramones/
Zgomot:
https://www.facebook.com/zgomotrva/
Yeni Nostalji:
https://www.facebook.com/yeninostaljiband/
APV:
Alliance for a Progressive Virginia is an all volunteer, not for profit organization, whose goal is to educate and influence the public, the media and elected officials at the local, state and national levels about important issues of the day. We are guided in this by our basic, common sense progressive values of economic fairness, social justice, and good government. We give your values a voice.
http://apvonline.org/